TripAdvisor Names Bayfront Marin House One of Best Hotels in St. Augustine
There is nothing more flattering than when our guests leave us five star reviews on TripAdvisor.
Except, of course, when TripAdvisor themselves name us as one of the best.
In 2016, the Bayfront Marin House was awarded with a Traveler's Choice Award from TripAdvisor, naming our bed and breakfast one of the ten most romantic stays in the country. That award is based on the cumulative number of five-star reviews that we've received in the past 12 months, as well as the number of reviews that specifically mentioned that our guests had an intimate and romantic stay at our inn.
A history of award-winning service
In addition to the coveted Traveler's Choice Award, our St. Augustine bed and breakfast has received a Certificate of Excellence award every year since 2012, marking five straight years of outstanding reviews and superlative comments from our wonderful guests. We are also proud of our 10 out of 10 rating from Hotelscombined.com.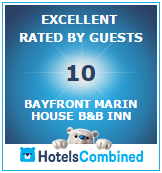 We appreciate every single review that is left for us online, whether in TripAdvisor, Yelp, or Google. We print out many of the five star reviews, and post them in our kitchen, highlighting all the positive comments about our staff. We hope that they're proud of themselves, because we're certainly proud of the many ways they come up with to delight and surprise our guests. Sometimes we're surprised by things that we read—we aren't always aware of the many times our team bends over backwards to create a wonderful vacation experience.
Tell us your story
If you had a wonderful experience with us, we hope that you will write a review for us. And please mention any staff members by name who made your stay particularly special—they deserve all the credit they get!
Here are a few of the things our wonderful guests have said:
"Best BB I've been to for several reasons. The location is perfect and close to everything, didn't need my car until the beach. The staff is amazing and friendly, and even let me put my son's formula in their fridge and ice packs if I needed to. The included breakfast was better than I would get at any hotel and the happy hour was awesome from the selection of drinks to the apps" – Jonathan S
"From the time we checked in until we left, we couldn't have asked for a better place to stay. Lovely staff, yummy breakfast served where you would like, relaxing sangria time in the courtyard, comfy bed and they loved Daisy, our Lab. We parked our car and never used it again. You can walk everywhere from the inn. Landscaping is divine and we could have lived in the hammock- spent almost two hours one afternoon just lazing and spent evenings in it gazing up at the night sky. The water is right across the street so that was a favorite stroll. Beautiful neighborhoods surround it. Would definitely visit again." – Roheryn
"We had the pleasure of staying here during our nieces wedding. The Marin House and the staff were top notch. The reception was held here and was perfect in every aspect. Brian treated the entire group like family.Mary cooked the best French Toast I have ever had.The room was really nice and we had a beautiful view from our balcony. I would definitely go back."  – Beverly
Thank you to all of our guests, and to the staff at TripAdvisor! We appreciate all of you!